About »
Riptees was born in 2008, the designs have been kept off-line (or better said on our personal t-shirts) until 2011.
The aim was to create t-shirts that we would actually wear, something that would be inherent to our interesets and likes and not just simple merchandise or industrial fan t-shirts, but something that could express admiration and respect without foolish worshiping or dumb iconization...and infact, intelligently iconize (?!) some of our heroes, usually not to be found on a T.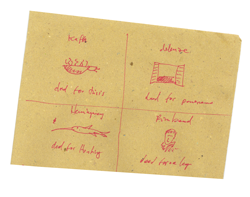 The ideas started flooding after several bottles of wine, one phrase and sketch after another, building up what is already here on the website and what is still on paper, and still on the paper-towels of the winery - hence the logo on the top-left corner, the two guys are us while trying to get back home!
Hope you enjoy it, we love it!
Maro Tambor
---
"Dead in... for... by..."
Our main series of designs is the "Dead in..." series, with it's variations: "Dead for...", "Dead by..." and so forth. The series can embrace any of the dead for which we pay respect.
People, whether they know it or not, like their blues singers miserable.
They like their blues singers to die afterwards.
Janis Joplin
Club 27
The 27 Club, also occasionally known as the Forever 27 Club or Club 27, is a name for a group of influential rock and blues musicians who all died at the age of 27, sometimes under mysterious circumstances. The 27 Club consists of two related phenomena, both in the realm of popular culture. The first is a list of five famous musicians who died at age 27 -- Brian Jones, Jimi Hendrix, Janis Joplin, Jim Morrison, and Kurt Cobain. The second is the idea that many other notable musicians have also died at the age of 27.
What else can you find in rip-tees.com ?
We aim to make a tribute in our own distinctive way to all the artists, writers, musicians or thinkers we admire and like, or for which we believe, that for some reson, their life needs not to be forgiven. And we'll do it by any means un-necessary.
---
WE ARE DISCLAIMED :)
Riptees is a collection of wearable or printable ideas and illustrations with the aim to pay tribute to the many disappeared artists, writers, musicians or thinkers.
When buying from rip-tees.com all the transactions are securely handled by spreadshirt.co.uk.